How to Use Pinterest in 30 minutes or less per week
I want to make Pinterest easy and fun for you to use okay? That's why today I'm sharing my tips on how to use Pinterest in 30 minutes or less per week. Not every platform requires hours of your attention.
Personally, I spend most time on blog writing. However, from that one blog I can create content for Pinterest, Instagram, my Facebook groups and even my YouTube channel! Not too bad. If you're new at blogging or just need a refresher, you might want to check out my Blogging Tips for Wedding Pros article.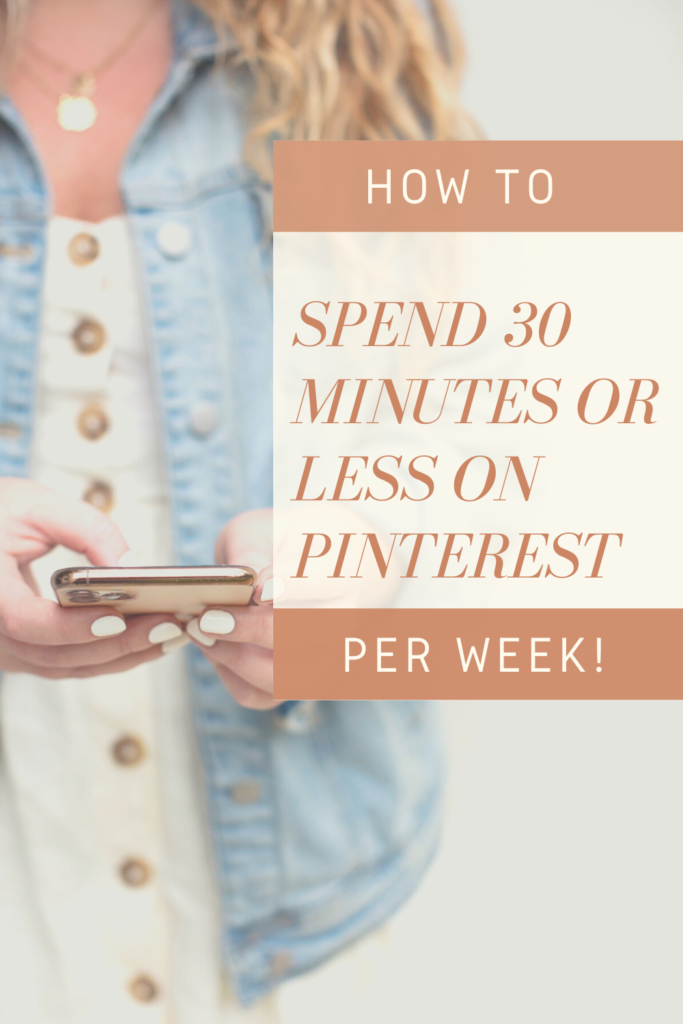 So if you only have 30 minutes or less per week to spend on Pinterest, what should you do?
"This blog post contains affiliate links. If you click on one of them, and make a purchase, I'll receive a commission."
Get a good scheduler
This shouldn't come to you as a surprise. If you want to save time, you have to invest in a good scheduler. Yes you can use the free version of certain social media schedulers but I promise you the paid version of Tailwind will be worth every penny.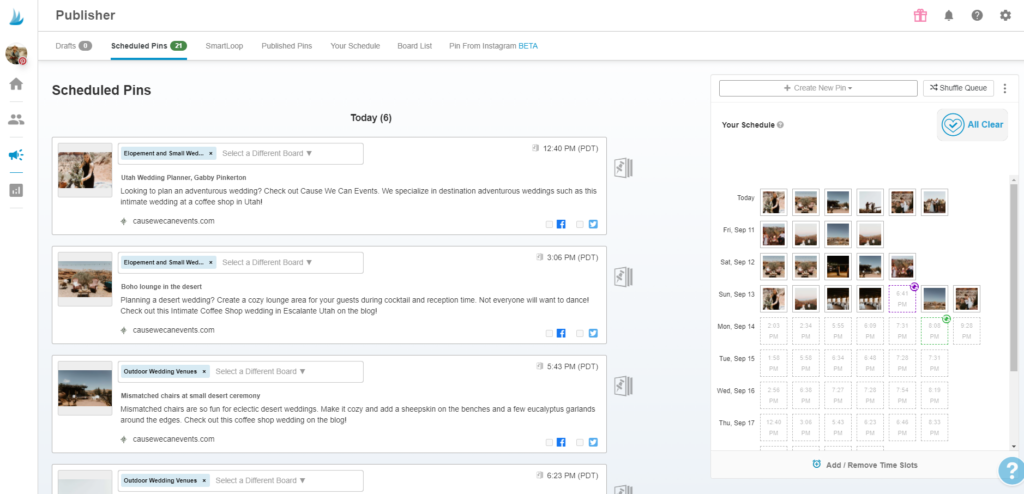 With Tailwind I'm able to quickly schedule all of my images from my weekly blog posts while making sure I'm not coming up as spam in the eyes of Pinterest. How? Well Tailwind is equipped with a "Smart Guide" that will tell you how to optimize your profile and pins.
You guys know I love Tailwind and so much so that I created a mini course all about it and how to use it! The #1 question I get asked about is: How do I use Tailwind Tribes? Well if you want to learn more about that and how to effectively use the scheduler, I highly recommend you check out my Tailwind Pro Mini Course.
Quality over quantity
Pinterest is now all about quality over quantity which is exciting for all you solopreneurs or small business owners out there. This means you don't have to create as much content but the content you do create should be really good.
For example, when I write a blog post, I pin all of the images that are on my blog (especially when it comes to featuring a wedding we've done) but then I only create 2-4 pins in Canva that have text overlay on them.
Why? Because some people will love the photo without any text while others will want to know right away what the blog post is about by reading the text on that image. I make sure the images are beautiful and the text is legible. Quick tip: Avoid script fonts because they show up to small on mobile devices!
Create templates for your pins
Sure you could design your own templates but if you're like me, creating a design is overwhelming. Don't worry, there's an app for that too! It's called Canva. For years I used the free version and it did a great job. I recently upgraded to pro and I will never go back to free.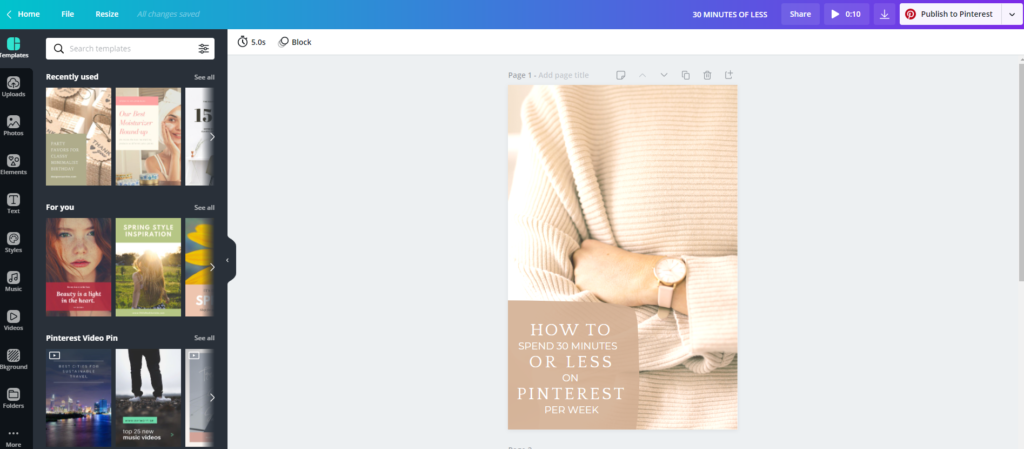 You get access to so many amazing templates for not only pins but instagram and facebook posts as well. It's a one-stop shop for all your design projects. It's super easy to use and I like that I have templates for certain types of posts that all I need to do is plug in the copy for them.
Repin other relevant content
Every Pinterest expert will have their own opinion on this one but I still believe it's important to repin other relevant content. I like to use Tailwind Tribes of course because I know when I join a tribe, it's very specific to my niche market. Not only that but it adds the pins to the Tailwind scheduler so that I'm not "dumping" pins and then jumping off the platform for a week.
You can also just take 5 minutes to browse through other people's content on Pinterest and pick 5-10 images that would be relevant to a handful of your boards. Don't waste too much time here. I'd rather you spend those 30 minutes on creating a few pins of your own rather than repin other people's content. However, if you're already using a scheduler and your blog is running like a well-oiled machine, then do it!
Sample Pinterest Schedule
Here's an example of how I would use my 30 minutes every week with Pinterest. Keep in mind, you can split these tasks over many days if needed. I like to set a timer and only allow myself to get these tasks done within their allotted time.
Choose my 4 favorite vertical photos from my latest blog post = 1 minute
Create 4 new pins for my latest blog post using Canva templates = 10 minutes.
Add these 4 new pins to Tailwind scheduler, add title & description = 15 minutes
Repin 4 images from Tailwind Tribes= 2 minutes
Share your new blog post on Facebook & Instagram to get more traffic! = 2 minutes
Notice that the majority of the time is spent on my titles & pin descriptions. Let's remember that Pinterest is a search engine and those keywords are SO important. Without them, your image won't pop up in your ideal clients' search bar.
The 2nd most important is the pin design. Don't go crazy over this and use the templates Canva gives you. I like to make sure my pins are on brand so I upload my website colors, logos and fonts before starting. I believe you do have to upgrade to the paid Canva version to do that.
Need more Pinterest help? I have an e-course called Pinterest Masterclass for Wedding Pros designed for you! We do a deep dive on finding your ideal client, figuring out how to get your keywords, my secret to writing pin titles and descriptions and an overview of Tailwind.
Hope this was helpful! See you next week. Don't forget to join our Pinterest for Wedding Pros Facebook Community.