Today I am breaking down the top 3 common Pinterest mistakes you might be making and how to fix them!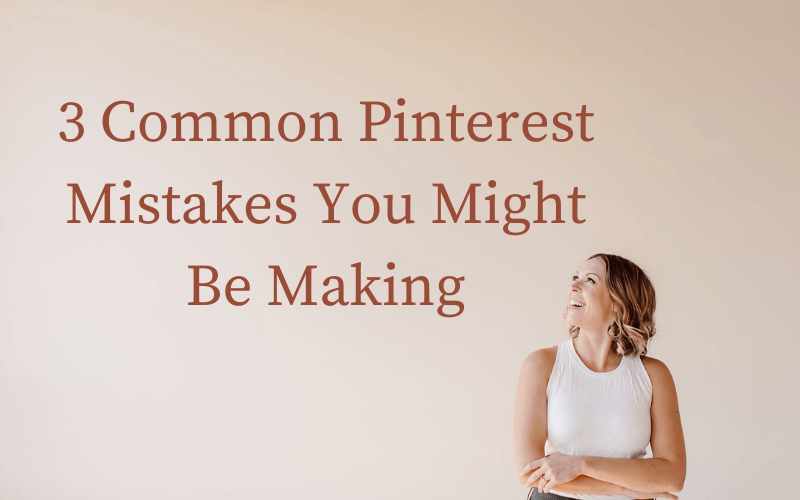 Your website isn't claimed.
This is such an important step for your Pinterest business profile. You might have added your website onto your account, but have you claimed it? By completing this step you are taking ownership of all of the content you are publishing from your website. This means you will be able to see more analytics from the clicks to your site, gain credibility with viewers, and protect your content from being used on other accounts.
To claim your website, log into your business profile > click edit > claim > then you will be able to claim your site.
Click here for a step-by-step guide on exactly how to claim your website. If you use WordPress like us, here's a helpful video for a visual tutorial:
If you are wondering why your profile isn't performing as you expected despite your hard work, double-check for this number one common mistake!
You aren't using unique links.
How many times have you personally clicked on a pin only to find completely unrelated content? Don't mislead your viewers! You need to use unique links that directly relate to the pins you are sharing. While a blog is the best way to drive traffic to your website on Pinterest, I know this isn't always a simple task! You might need time to set up your blog page, gather content, and outsource your blog writing. Since we believe blogging is so essential to a successful Pinterest, check out our monthly pinning + blogging services if you are ready to take your profile to the next step.
In the meantime, you might be wondering, "What do I link to if I don't have a blog?" Here are your options:
Instagram: Create pins linking directly to your Instagram profile
Photo Galleries: Do you have online galleries showing off your work on your website? Pin content with those unique links!
YouTube: If you have a YouTube channel for your business, grab some related photos and start pinning, linking to your videos.
Podcast: Pinterest viewers love podcast episodes!
Freebies: Do you have any free content that your viewers would like? Create pins and promote on your Pinterest with this link.
Take a look at your profile, and click on your pins. If you find that they are only leading to your general website or content that isn't quite related, start implementing this advice.
Your aren't editing your captions.
This is one of the Pinterest mistakes that is super easy to do if you decide to pin from Instagram. Since you can easily share to Pinterest on the platform, you might think your work is done from there. But, you need to take just a few minutes to rewrite your caption. Writing for Instagram is much different than Pinterest. With any content shared on Pinterest, make sure you are writing a caption that includes: your pin title, a brief 1-2 sentence description of the image, and a call to action to visit your link. No hashtags needed!
Are you making any of these common Pinterest mistakes? I hope this blog has helped you on your Pinterest journey. If you loved this post, read all about how to use Pinterest like a pro next.